My Knife Collection
Many of you have heard me speaking of my knife collection, so here are a couple of pics of some of my pieces. I know they are not the clearest pics, (captured on video camera). I will see about getting some clearer photos taken.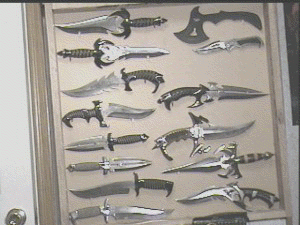 These are most of my Gil Hibben Collection. He is a very talented knife maker and designer. He has been commisioned recently as the Official Armorer for Star Trek by Paramount and his knives have already been seen in many movies and television series, including the Star Trek shows and movies as well as many others.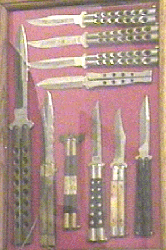 Balisong Collection
These are my balisong knives, commonly known as butterfly knives. It is absolutley amazing to watch someone who has become very proficient with these knives. Being able to manipulate them masterfully is an artform all it's own.
---
If knives interest you in any way, I highly recommend the following sites.....
Blade Forums (Knife Discussion Boards.)
Bailsong X-Treme (This guys site is devoted to Balisongs and handling techniques.)
---
Dont forget to sign my guestbook. Just click on the "Home" link below to get to it.
---
- Home -
- Links -
FastCounter by bCentral